"Beautiful Nonsense:" A show at the Rockland Center for the Arts
If Nonsense Is Beauty, Is Beauty Nonsense?
By
Sparrow
Keetra Dean Dixon specializes in impossible symmetrical objects: a cigarette with two filters, one at each end (Every Breath You Take); a balloon with two openings (Dubloon). Peter Iannarelli offers a similar concept: two hammers joined at the "face." (The face is the part of the hammer you hit the nail with.) Steve Rossi's "Reciprocal Ladder to Roll" is a circular red ladder, seen feet in diameter, designed to be rolled down the street. All these self-contradictory objects appear in "Beautiful Nonsense," a show at the Rockland Center for the Arts in West Nyack starting February 13.
The artworks tend to fall into two categories: the rural and the urban. The rural are often homemade. Paul McMahon's Bouncy Bench consists of a plank of wood supported by two coiled springs. Driving Around is Jared Handelsman's puzzling photograph of a pickup truck caught in a circular trench. In fact, Handelesman dug the trench himself with a backhoe, and dropped in the truck. The "urban" items, on the other hand, look like they were fabricated in a factory. Katerina Kamprani, a designer in Greece, produces sleek, anonymous pieces—a green coffee cup with a horizontal handle, a fork with one-inch-thick tines—that resemble impersonal riddles.
Some of the works show immense technical skill, such as Livia Marin's melted teapot, from her "Broken Things" series. Half of the pot has become a puddle, still imprinted with its blue Chinese-style pattern. Myra Mimlitsch-Gray's spoon with an extended handle—a spoon that has been stretched like taffy—may be quoting my favorite Salvador Dali painting, Agnostic Symbol, which shows a 20-foot-long spoon reaching toward a mysterious stone, then bending around it.
"Beautiful Nonsense" is often funny. The artworks function the way a joke does: the setup, then the punchline. There is an affinity to pranks, like the ones advertised in comic books in the 1960s: pepper chewing gum, the "joy buzzer," whopee cushions. These pieces reach to the heart of the question, "What is art?" The answer: art is a fork you can't eat with.
The absurd object is most closely associated with Dadaism, the anarchistic art movement which began in Zürich in 1917. But Dada must be updated from time to time. To begin with, the state-of-the-art absurdities of the 1920s look quaint and grandmotherly today. Most of the artists represented here are from the Hudson Valley, but a number are international. Sculptors from Spain, England, Greece, Brazil, and Germany are represented. Absurdism, it turns out, is a universal language.
The show began with an idea. The curator, artist Norm Magnusson, explains, "I was thinking of moments in our lives when you are taken out of our perceptual surefootedness, when you wake up in a strange bed in a strange town and for a second don't know where you are." Magnusson is best known for his faux history markers, which often include subtle political satire. Many of these signs appear in the Hudson Valley.
The absurd object can have a political dimension. "Joy Taylor did a piece that's one of my favorites: a dustpan made out of steel wool," observes Magnusson "For me, it's a home run, because it first takes you out of your ordinary relationship to ordinary objects, and then interjects this other commentary, which is the abrasiveness of domestic life for a woman."
The Rockland Center for the Arts is also showing "Winter Theorems," a collection of fanciful mixed-media drawings by Kingston artist Kevin Paulsen, many of them on "foxed" paper (i.e. paper dipped in tea).
"Beautiful Nonsense" and "Winter Theorems" will appear at the Rockland Center for the Arts in West Nyack February 13-April 3. (845) 358-0877; Rocklandartcenter.org
Parting Shot: Skin Deep
...The androgynous face shared by all Taylor's pieces in the Skin Deep series is a doctor's office schematic, a sticker employed to chart the progress of a worrisome growth or lesion on a patient's face. Taylor points out that she lifted the face stickers particularly because "it is such a stylized drawing, rather Egyptian in style, as both profiles of the face, including both ears, are included, along with the full frontal view - a view impossible to gain in nature - but useful to the dermatologist because one view can show all, and useful to me for its unique quality of line, artistic expansion of the profile view, its rather philosophical expression, and the gender-questionable nature of him/her". Taylor's collages are not random pastiches but calculated permutations. By resituating the face among other found materials and many different mediums, she engages the observer in an optical game of re-evaluation and re-cognition."
— Christina Kaminski, Chronogram, October 2008
...Rhein's work is paired with equally innovative drawings by Joy Taylor, who engages in the delicate art of frottage, or rubbing. Gently rubbing graphite into Mylar sheets with her fingers, she picks up the delicate textures on both sides of the sheets to create exceedingly delicate abstractions with a surprising sense of visual depth. These tactile drawings engage the direct address of nature embedded in the process with the sensual, almost Romantic sensibility to be found in the final product. These elegant and unusual works successfully combine the objective world with the flights of fancy possible only in the imagination.
Nature's pencil has never been busier.
The Eric Rhein and Joy Taylor exhibition is on view through November 19 at BCB Art, 116 Warren Street, Hudson.
—Beth E. Wilson, Chronogram, October 2006



My pick for the best summer show was Joy Taylor at Nikolai Fine Art. Her
illusionistic "drawings" of endlessly repeated organic forms were unique
and very well executed. Her technique of rubbing subtle charcoal blends
through stencils with her fingers reminded me a bit of William Wood's
unusually technical monochromatic paintings. But regardless of skill what
intrigues me about her work is that while clearly contemporary, it is
original unto itself. I could actually live with one of these quiet
renderings of a mysterious, floating realm. And (what a relief) there
are no, cliché of the moment, taped edge, lime green and fuchsia,
architectural or teenybopper themes.
—Christopher Chambers
, New York Arts Magazine
, September 2002
There's the Rub
Islip Art Museum, 50 Irish Lane, East Islip, NY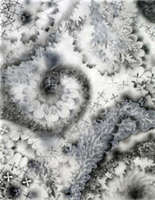 The technique of laying paper over a surface and lifting an impression with a crayon or pencil is traditionally used to collect names from tombstones and images from memorial brasses. But that is not the only way to make a rubbing, as this group show demonstrates.
Joy Taylor applies powdered graphite to sheets of polyester film to create delicate layers of stenciled imagery derived from natural objects like leaves. Complex tonal variations are achieved by feathered edges, superimposed forms and cutout overlays, as in ''No. 5,'' which is subtly enhanced by crumpled surfaces and threads that tie the layers together.
Joy Taylor applied powdered graphite to sheets of polyester film in creating the stenciled imagery titled ''No. 5'' at the Islip Museum.
New York Times May 7, 2006
(Re)Collections
The Arts Center of the Capital Region, Troy, New York
...Among the artists whose work drew me in, and whose relationship to the source seemed clear, is Red Hook's Joy Taylor, who worked with material from the Columbia County Historical Society in Kinderhook. A meticulous maker of drawings, collages, and assemblages, Taylor responded to equally meticulous embroidered christening gowns; in pure white-on-white, two of them are presented in glass wall cases next to Taylor's six works.
Without taking literal meaning from the dresses, Taylor has created sublime layerings of gouache, found images, leaves and manufactured objects that imitate the symmetrical patternings of fabric and evoke the sense of time passed and familial intimacy that is embodied in the dresses. With or without these juxtapositions, her pieces strike a lovely balance between complexity and subtlety, while also retaining a hnt of playfulness, or even kitsch.
—David Brickman
, Metroland May 26, 2005