Parting Shot: Skin Deep
...The androgynous face shared by all Taylor's pieces in the Skin Deep series is a doctor's office schematic, a sticker employed to chart the progress of a worrisome growth or lesion on a patient's face. Taylor points out that she lifted the face stickers particularly because "it is such a stylized drawing, rather Egyptian in style, as both profiles of the face, including both ears, are included, along with the full frontal view - a view impossible to gain in nature - but useful to the dermatologist because one view can show all, and useful to me for its unique quality of line, artistic expansion of the profile view, its rather philosophical expression, and the gender-questionable nature of him/her". Taylor's collages are not random pastiches but calculated permutations. By resituating the face among other found materials and many different mediums, she engages the observer in an optical game of re-evaluation and re-cognition."
— Christina Kaminski, Chronogram, October 2008
...Rhein's work is paired with equally innovative drawings by Joy Taylor, who engages in the delicate art of
frottage,
or rubbing
.
Gently rubbing graphite into Mylar sheets with her fingers, she picks up the delicate textures on both sides of the sheets to create exceedingly delicate abstractions with a surprising sense of visual depth. These tactile drawings engage the direct address of nature embedded in the process with the sensual, almost Romantic sensibility to be found in the final product. These elegant and unusual works successfully combine the objective world with the flights of fancy possible only in the imagination.
Nature's pencil has never been busier.
The Eric Rhein and Joy Taylor exhibition is on view through November 19 at BCB Art, 116 Warren Street, Hudson.
—Beth E. Wilson,
Chronogram, October 2006
My pick for the
best summer show
was
Joy Taylor at Nikolai Fine Art
. Her
illusionistic "drawings" of endlessly repeated organic forms were unique
and very well executed. Her technique of rubbing subtle charcoal blends
through stencils with her fingers reminded me a bit of William Wood's
unusually technical monochromatic paintings. But regardless of skill what
intrigues me about her work is that while clearly contemporary, it is
original unto itself. I could actually live with one of these quiet
renderings of a mysterious, floating realm. And (what a relief) there
are no, cliché of the moment, taped edge, lime green and fuchsia,
architectural or teenybopper themes.
—Christopher Chambers
, New York Arts Magazine
, September 2002



There's the Rub
Islip Art Museum, 50 Irish Lane, East Islip, NY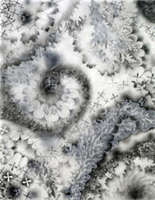 The technique of laying paper over a surface and lifting an impression with a crayon or pencil is traditionally used to collect names from tombstones and images from memorial brasses. But that is not the only way to make a rubbing, as this group show demonstrates.
Joy Taylor applies powdered graphite to sheets of polyester film to create delicate layers of stenciled imagery derived from natural objects like leaves. Complex tonal variations are achieved by feathered edges, superimposed forms and cutout overlays, as in ''No. 5,'' which is subtly enhanced by crumpled surfaces and threads that tie the layers together.
Joy Taylor applied powdered graphite to sheets of polyester film in creating the stenciled imagery titled ''No. 5'' at the Islip Museum.

New York Times May 7, 2006


(Re)Collections

The Arts Center of the Capital Region, Troy, New York


...Among the artists whose work drew me in, and whose relationship to the source seemed clear, is Red Hook's Joy Taylor, who worked with material from the Columbia County Historical Society in Kinderhook. A meticulous maker of drawings, collages, and assemblages, Taylor responded to equally meticulous embroidered christening gowns; in pure white-on-white, two of them are presented in glass wall cases next to Taylor's six works.
Without taking literal meaning from the dresses, Taylor has created sublime layerings of gouache, found images, leaves and manufactured objects that imitate the symmetrical patternings of fabric and evoke the sense of time passed and familial intimacy that is embodied in the dresses. With or without these juxtapositions, her pieces strike a lovely balance between complexity and subtlety, while also retaining a hnt of playfulness, or even kitsch.
—David Brickman
, Metroland May 26, 2005